One of the Best Mandarmani Resort
Bengal Beach Resort voted as one of the best sea facing Mandarmani Hotel with private beach. Bengal's favorite beach resort in Mandarmoni of modern design, with all the amenities with magnificent views of the beach, sea facing rooms, beautiful swimming pool, children play garden, multi cuisine restaurant and direct beach access located on the beautiful mohona of Mandarmani
Luxury Penthouse Seaview Suite
Premium top floor AC penthouse room with private balcony with 180° with a breath-taking beachview from room, window and balcony. Clear view of Tajpur light house to Mandarmani Mohona beach. Enjoy full day having cool sea breeze & listening to soothing sounds of waves.

 AC Double/Triple bed Room
 180° Beachview Balcony
 Bathtub Washroom
 Smart LED TV
 Free Highspeed Wifi
 Free complementary Breakfast
 Smart Inverter AC
 Room Service
 Geyser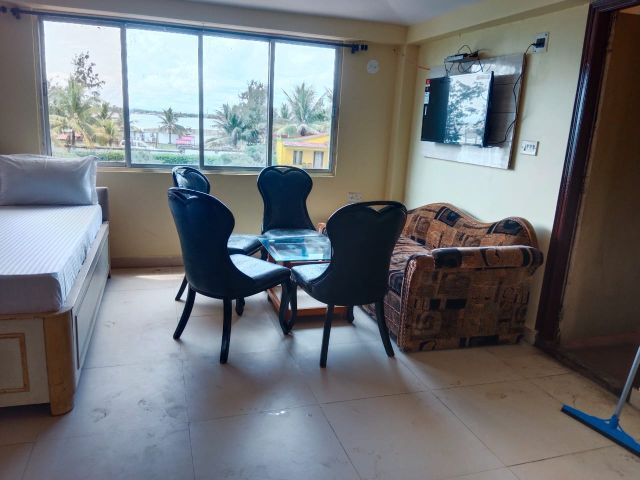 Seaview Club Room
Premium first floor AC dormitory room with 180° beachview from room & all window. Clear view of Mandarmani mohona beach. Ideal for a bigger family or a group of 8-10 Adult. Stay together & enjoy together the club room with direct beach view.

 AC 4 Double bed Room
 180° Beachview from room
 Bathtub Washroom
 1 Sofa Cum Bed
 Smart LED TV
 Free Highspeed Wifi
 Smart Inverter AC
 Room Service
 Geyser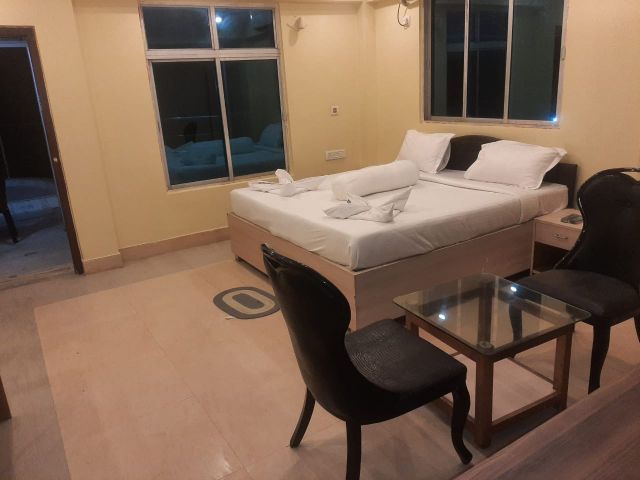 Premium Seaview Quad Room
Premium ground floor AC room with two double bed room ideal for a family of 4 - 5 people with direct beachview. Enjoy the view of mandarmani beach from room window. Closest room to the beach.

 Deluxe A/C 4-bed Room
 Beachview /Garden view window
 Western Washroom
 Smart LED TV
 Free Highspeed Wifi
 Optional complementary Breakfast
 Smart Inverter AC
 Room Service
 Geyser

Superior AC Family Room
Premium AC two double bed room with private washroom with bathtub, large enough for a family of 4 adult and 1-2 kids. Enjoy full day having cool sea breeze & listening to soothing sounds of waves.

 AC 4 bed Room
 Bathtub Washroom
 Smart LED TV
 Free Highspeed Wifi
 Optional Free complementary Breakfast
 Smart Inverter AC
 Room Service
 Geyser

Junior AC Family Room
AC two double bed room with private washroom, large enough for a family of 4 adult in a budget friendly tour. Enjoy full day at beach or swimming pool and have a good night sleep at ac 4 bed room.

 AC 4 bed Room
 Western Washroom
 Smart LED TV
 Free Highspeed Wifi
 Optional Free complementary Breakfast
 Smart Inverter AC
 Room Service
 Geyser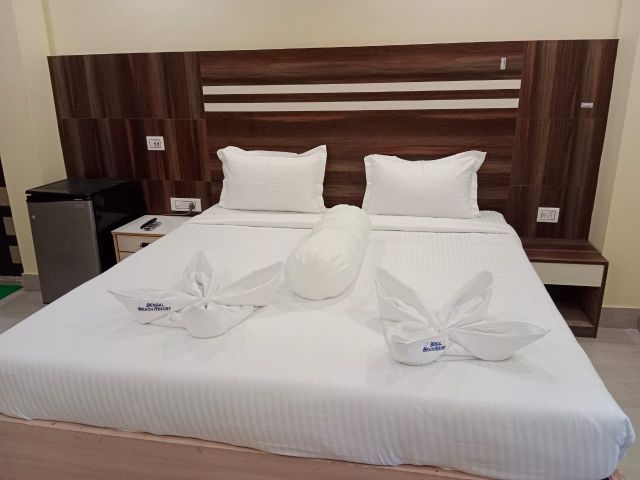 AC Deluxe Room
AC double bed room with private balcony, washroom, large enough for a family of 2 adult in a budget friendly tour. Enjoy full day at beach or swimming pool and have a good night sleep at ac 4 bed room.

 AC double bed Room
 Western Washroom
 Smart LED TV
 Free Highspeed Wifi
 Optional Free complementary Breakfast
 Smart Inverter AC
 Room Service
 Geyser

Exclusive Dorm​
AC 6 bed room with private washroom, large enough for a group of 6-7 adult in a budget friendly tour. Enjoy full day at beach or swimming pool and have a good night sleep at ac 4 bed room.

 AC double bed Room
 Western Washroom
 Smart LED TV
 Free Highspeed Wifi
 Optional Free complementary Breakfast
 Smart Inverter AC
 Room Service
 Geyser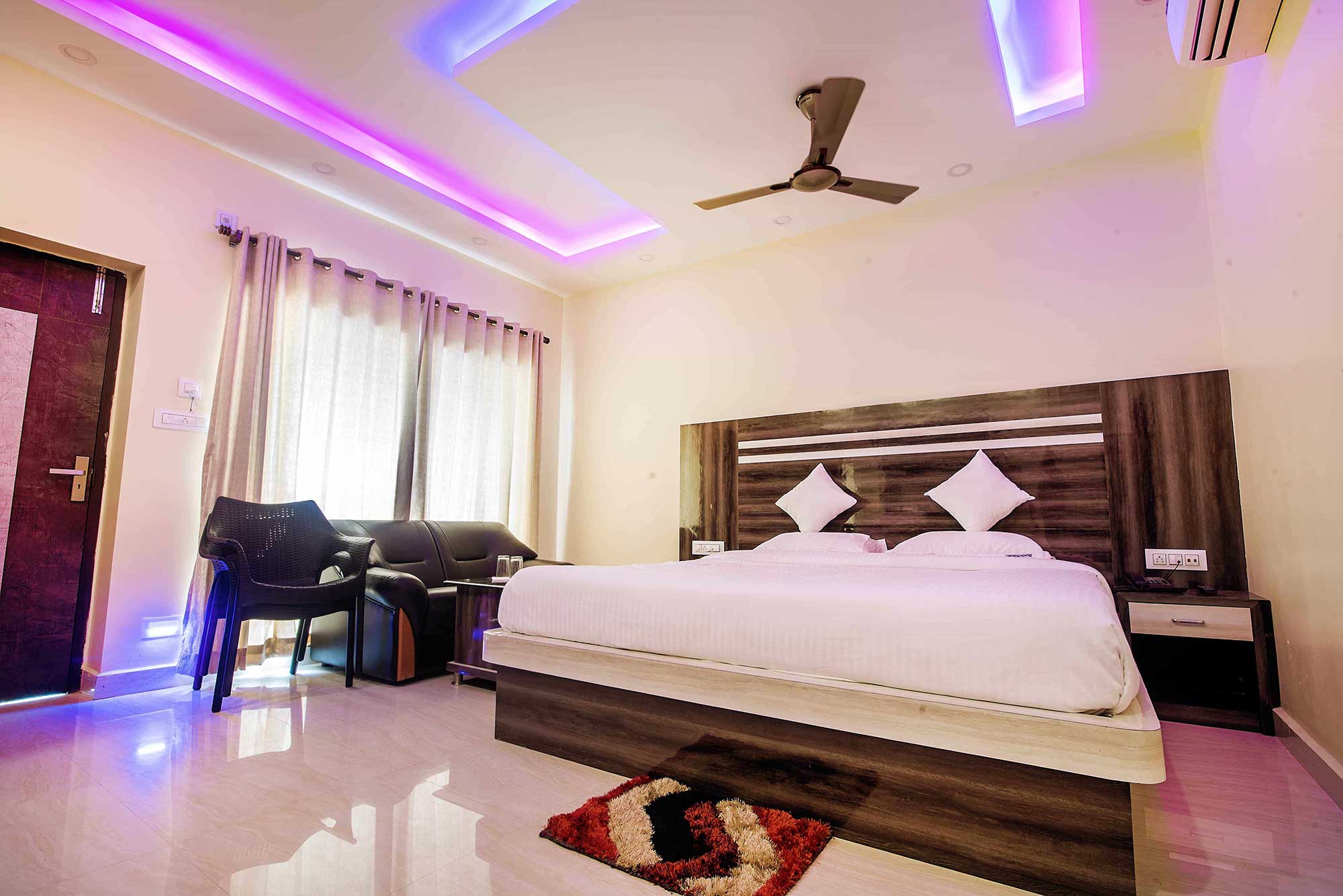 AC Deluxe Room with PoolView
AC double bed room with private balcony, washroom, large enough for a family of 2 adult in a budget friendly tour. Enjoy full day at beach or swimming pool and have a good night sleep at ac 4 bed room.

 AC double bed Room
 Western Washroom
 Smart LED TV
 Free Highspeed Wifi
 Optional Free complementary Breakfast
 Smart Inverter AC
 Room Service
 Geyser

Driver Dormitory
Sharing Driver room for a budget stay for your driver. It will have common washroom and a comfortable stay for your house help.
"Recently visited, Best beach resort in mandarmani, direct access to beach, rooms are big, some sea facing rooms are there, staffs are excellent, manager & management also good."
On the beach resort of modern design, with all the amenities with magnificent views of the Beach, beautiful swimming pool and directly on the beach.
Booking is going on for a discount upto 50% for limited time offer. Hurry Now!
Whether you're curious about Bengal Beach Resort, one of the best mandarmani beach resort or you want to book, or even just want to know pricing, we're here to answer any questions.